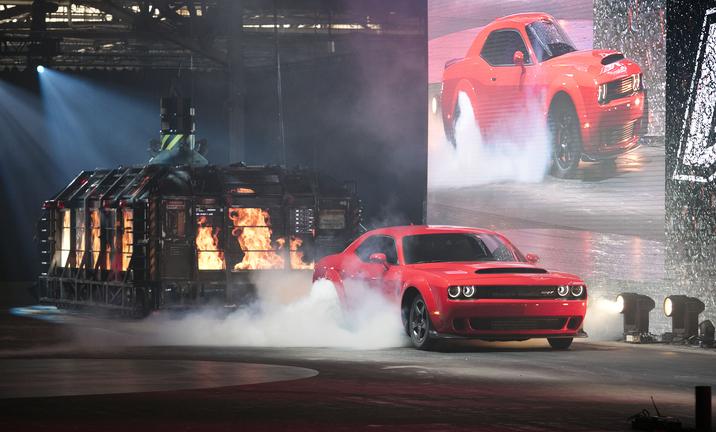 For speed freaks and dragsters, what's cooler than a 10-second car? How about a 9.65-second car. The recently revealed Dodge Challenger SRT Demon breaks through that elusive 10-second barrier to bring the world a car that's extreme in so many ways. Here's a quick rundown of some of the ultra-cool accolades the Demon has nabbed: Guinness World Record holder, world's fastest quarter-mile production car, highest G-force for a production car, the first-ever front-wheel lift off the line in a production car and that's just scratching the surface.
Launched at the New York International Auto Show, the new 2018 Dodge Challenger SRT Demon leaves its competitors eating its dust on the drag strip. The vehicle is considered too fast for the drag strip by National Hot Rod Association (NHRA) and has consequently been banned, a fact Dodge engineers seem quite proud of. With a quarter-mile elapsed time of 9.65 seconds at 140 mph as certified by the NHRA, it is the world's fastest.
If you were wondering about the Guinness World Record accolade – it's another supremely cool and unique feature of this supercar. The Challenger SRT Demon's front wheels lift 2.92 feet off the ground at launch, setting the record for the world's longest wheelie.
The Furiously Fast Dodge Demon
The wide-body Demon makes competing muscle cars shrink in fear. Dodge has unleashed its speed-defying beast powered by a supercharged engine. A step up from the Hellcat, the Demon features a long list of production-first and high tech features. More than half of the parts in the Challenger Demon have been upgraded from the Challenger Hellcat. Not only does it have the largest-ever functional hood scoop, but there's a second intake in the middle of the inside driver's side headlight and a third near the wheel liner.
Dodge Challenger Hellcat Turns Around Preconceived Impressions
This is an awesome-looking machine has muscle-car proportions, soft throttle calibration and a smooth-shifting eight-speed transmission. Production of this limited-edition Challenger SRT Demon begins later this summer, with 3,000 vehicles produced for the United States market.
To find high-performance Dodge vehicles for sale, visit Wilson Motors in Corvallis, OR. Come in to test drive a Dodge from our Dodge SRT inventory and feel the thrill of power